Calendar:
All events are listed on Club calendar link- click here
: Calendar – Skowhegan Sportsmans Club
---
Hunter Safety & Handgun Safety:
The Club promotes public safety by conducting Hunter Safety and firearms training for the general public and youth of our community, we need Member "volunteers" who are certified willing to teach a Safety Class for both handgun and hunter safety for the club.
We also need volunteers who would be willing to assist the club in getting everything set-up to make sure the class runs smoothly.
We would like to have one of each class on the schedule for this year.
Please use the Contact Us form or secretary@skowhegansportsmansclub.org, if we can get a few of our instructors together to make this happen this would be great! Thank you!
Maine Online Hunter Safety Course | Hunter-ed.com™
---
Safety Courses:
To see the classes offered in the State of Maine, visit the Maine Department of Inland Fisheries and Wildlife at:
Educational Programs: Programs & Resources: Maine Dept of Inland Fisheries and Wildlife
Safety Courses are listed by Category and by County for your convenience.
---
Firearms Instruction:
If you are in need of some instruction we have many Members of the Club who will give you a helping hand.
Some of the best shooters have told us they only get better by listening to other qualified shooters.
Besides who doesn't like a good day on the Range.
We also recommend you finding a local place that offers handgun safety courses.
---
Membership Meetings:
The club meets every second Thursday of the month.
The Members go over Club Business and Welcomes New Members in who are joining the Club.
---
Range Safety Orientation:
Safety is imperative, during our club orientation you get a complete tour of the club property.
During the tour the Chief Instructor stops at each Range location to explain the importance of how each Range location is set-up and what is expected of every Member.
You will then review the Range Rules with the Chief Instructor prior to receiving your pin.
Agreeing to (signing) a liability waiver and declaration acknowledging your responsibility as a range user
It is your responsibility to review the Range rules annually and to reach out and ask questions as you have them.
---
Hunter's Sight-In Day:
Among the many traditions associated with Maine's gun deer season, firearm sight-ins have a strong connection to hunting success, hunting safety and hunting ethics.
The Club has targets, tools, and most importantly qualified Members of the Club to assist you if needed.
Safety Rules:
A – Always point your muzzle in a safe direction
B – Be sure of your target and what's beyond
K – Keep your finger outside the trigger guard until ready to fire
Targets: Target Shooting • NSSF 
---
Project Appleseed:
Skowhegan Sportsmans Club has partnered with and hosted the Appleseed Project Annually for many years. Appleseed is a nationwide effort dedicated to preserving the American tradition of rifle marksmanship. Marksmanship skills are imperative.
Most events last two days (rain or shine) and teach the basics of field rifle marksmanship.  During breaks from the firing line, the events of April 18-19, 1775 are recounted when marksmanship came to the fore during the birth of our nation.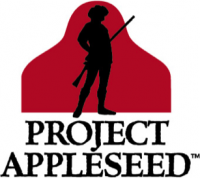 You can't write the story of America without including several chapters about the skill and bravery of our forefathers. On April 19, 1775, at Lexington and Concord, American colonists stood with muskets in hand and faced down the British forces that were trying to seize their arms. The colonists did it with grit, determination, and superior marksmanship. They were real marksmen: nobly and ably putting their skills on the line in pursuit of liberty. We are the descendants of those fearless men and women who earned our freedom on the battlefield. We honor their pursuit of liberty by passing along the skills and knowledge that aided them in securing it. Today's Rifleman understands that owning and mastering a rifle is part of his/her American heritage. Whether you're a new shooter or a seasoned marksman, Project Appleseed can help transform you from a person with a rifle into a principled and skilled Rifleman.
This packet will provide you with a lot of detail and history: Apleseed Packet
---
Rifle and Pistol Shoots:
The club currently holds a scheduled monthly Pistol Fun Shoot and Rifle Shoot.
These shoots are friendly non stressing events. Scores are not sent in, our current goal is to get people together who enjoy the sport and have fun. This has attracted many people who would not have normally gone to a registered shoot.  Come have some fun!
See club calendar for dates and details.
---
Pistol Leagues:
The Club Members have enjoyed having a Winter Postal Team. If you want to join let us know.
Precision Pistol, known to many as Bullseye Pistol is a one-handed unsupported shooting discipline. Course of fire includes slow fire (10 shots in 10 minutes), timed fire (5 shots in 20 seconds) and rapid fire (5 shots in 10 seconds), shot with a .22 pistol. Each winter members of Skowhegan Sportsmans Club compete against members of other clubs around the state by participating in "postals"; each week we shoot the course of fire and send in our scores to the state postal match director. Generally our Club has had enough participation to have two teams.
Tips: The Encyclopedia of Bullseye Pistol
---
Annual Wardens Appreciation Dinner:
It has been an Annual tradition since 1950,  the Skowhegan Sportsmans Club puts on a delicious dinner for Maine game wardens, active or retired. The Wardens and their family are invited to enjoy dinner at the club. It's quite a feast. It is the club's way of showing its appreciation for the hard work, personal sacrifice and dedication these men and women have taken; an oath to protect Maine's fish and wildlife resources.
About the Warden Service: Warden Service: Maine Dept of Inland Fisheries and Wildlife
---
Gun Shows:
The Range Committee works hard to set up tables at the gun shows in Maine.
During the shows Our Members who volunteer interact with the Public and tell them about the Club and also sell our Current Raffles for fundraising.
If you are not afraid to interact with people let us know, we need people at the tables who engage with the Public and draw them in.
---